Download Our Guide to Food & Wine
in Jordan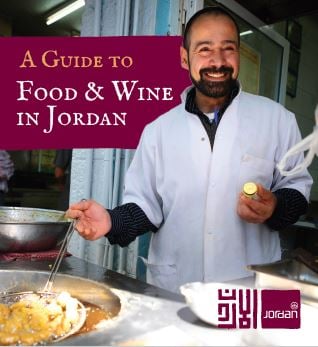 From simple eats to sweet treats, the cuisine of Jordan has something that will please every palate. This guide aims to give you an overview of the types of foods you and where you can find them on your trip to Jordan. The Food Glossary will be your most valuable resource during your travels because it provides you with a description each type of traditional Jordanian food, all the ingredients and how it is cooked. Here are just a few of the fan favorites:
Msabbaha, a hummus with tahini, lemon and olive oil

Freekeh Soup, a soup made with smoked green wheat, chicken broth, onions and chicken

Kofta, minced beef or lamb ground with spices and onions, grilled to perfection

Um Ali, a bread pudding cooked with raisins, dates, nuts, rose water, milk and heavy cream
We invite you to download this guide to help plan your trip and learn about all the foods that will be available to you on your trip to Jordan. You won't be through the appetizers of the Food Glossary before you're ready to taste these delicious foods!