Meet our dynamic Team!
Malia Asfour - Director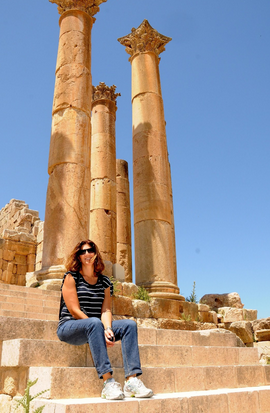 "Boss-lady" is our very own director, Malia Asfour. Her longtime familiarity with the travel industry started back in 1995 when she began handling tourism for the Jordanian government in the United States as tourism attaché in Washington, DC. She was a key participant in creating the country's first tourism office in North America, which was launched in 1997. Now eighteen years later, her experience is unparalleled.
Malia is responsible for putting Jordan on the map and in the minds of North Americans as an alluring travel destination. She is truly the face of Jordan's warmth and hospitality, drawing people to her like a magnet when she walks into a room. A mentor to many, and mother hen to our staff, she is driven by a passion for her family that can be seen not only at home, but also in the office. Her compassion and motivation are contagious, contributing to the close, cohesive nature of our team. Strong, creative, assertive, determined, and charismatic—these are just a handful of words we would use to describe this trailblazing leader in the travel industry. Clearing new paths every day, her knowledge in the field and will to succeed are the perfect combination for going after and reaching what she knows is best for everyone. Malia currently serves on the board of directors of the National Tourism Association (NTA); The Faith Travel Association (FTA); Tourism Cares; Petra National Foundation (PNF) and she is a member of the Adventure Travel Trade Association's (ATTA) Advisory Board.
Follow her on Twitter - @MaliaAsfour
Joey Angeles – Office Manager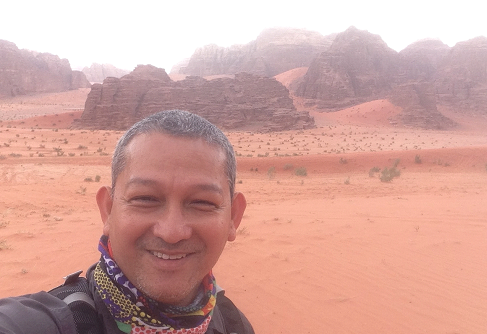 If you were to combine every essential trait of a functioning and productive workplace, what would you get? The marvelous Joey Angeles: he is our go-to man, the person you can and should call if you need anything—he'll be there to help you with great skill and patience. Joey is a Jack of all trades here in our office, managing everything from finances, accounting, promotional material and information, to generally keeping the team organized. To name him the Office Mayor would not be an exaggeration. Beneath his quiet demeanor lies a witty comedian, often the source of much-needed humor and fits of laughter. Joey is also a mountain biker, hiker, backpacker and an overall adventurer who is up for any challenge that may come his way.
Janine Jervis – Deputy Director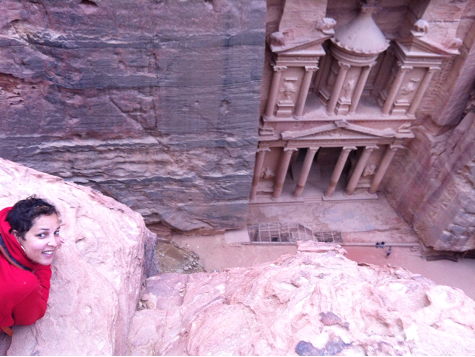 Creative, loyal, adventurer, perfectionist, communicator is Janine Jervis, Deputy Director of JTBNA! Janine started as an intern back in 2006 and worked her way up to help lead JTBNA into the future. Janine is funny, innovative and loves to be out in the field more than sitting behind the desk. She is constantly taking journalists to Jordan and always puts their needs ahead of anyone else! Once you have experienced a trip with Janine, you will not want to go with anyone else and you become friends for life! Janine launched her career in destination marketing with the JTBNA team and cannot imagine doing anything else! A true Bedouin at heart, Janine's favorite place to be is camping in the middle of the silent, vast, and magical desert of Wadi Rum.
Follow her on Twitter - @Jamaykey
Omar Banihani – Marketing Manager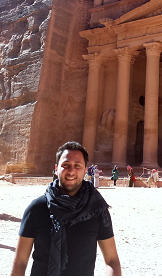 The Negotiator! Yes, that is our own Omar Banihani, he is simply the best negotiator in town and he will definitely get what he wants, always putting Jordan first. Omar loves to be challenged and is always up for anything new. He loves to create campaigns that are integrated with many moving parts and will be persistent until he gets it perfect and his way! Omar stumbled into JTBNA as an intern and quickly worked his way up to become the Chief Negotiator and head of travel agent outreach with a Master's Degree in Tourism Administration from George Washington University. Omar loves a good party and is always surrounded by friends. He is the "life of the party" at industry events and after events and his passion is infectious. If you need anything, call Omar and he will make sure you get what you want and need! Fun, funny, passionate and remember if you want a challenge, come negotiate with Omar!
Samer Abu-Taleb – Trade partnerships & Digital Marketing manager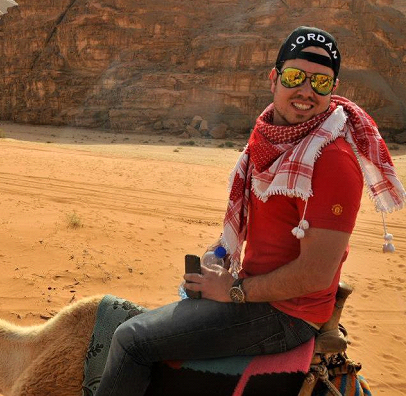 Our Trade Partnerships and Digital Marketing Manager was born and raised in Jordan before moving to the US where he graduated from Old Dominion University with a bachelor's degree in Marketing and International Relations then went on to earn a Master's in Business Administration from Marymount University. Samer spent 2 years working in corporate America before deciding to follow his heart and join the JTBNA team. He works on collaborating with Tour Operators and building strategic partnerships to inspire people to travel to Jordan and as the Creative Director, Samer makes sure our digital assets speak to our audience in the best way possible.
Samer's favorite time in Jordan involves hanging out with Bedouins under the stars in the desert drinking tea, sitting around a nice fire, telling stories and discussing life. The name "Samer" means a person who enjoys telling stories and is a pleasant companion. We think his name suits him well.
Connect with him on LinkedIn here and on Twitter @SamerAbuT