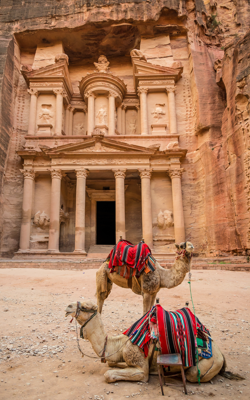 Petra
Get to feel like Indiana Jones in "The Last Crusade" as he charges through the desert gorge to the Treasury in search of the Holy Grail! Jordan abounds in archeological riches, but few sites in the world can rival the Nabataean city of Petra, carved out of the rose-red rock cliffs!
WHAT TO DO
The entire area around the site of Petra offers dramatic and varied landscapes. The canyons and high places are a maze of wind-sculptured rocks, tiny meandering tracks, and secluded valleys, where the only sound is the tinkling of goat bells or the reedy notes of a shepherd's flute. It is, in effect, an adventurer's playground. This is a great place for walking, trekking, horseback riding and off-road cycling.
If you have the time and the energy to face the inclination, climb up to the shrine of the prophet Aaron, 1,350m (4,429 ft.) above sea level. It is the highest point in Petra, and you will be rewarded by spectacular views of the entire region. The climb takes about 2-3 hours, so be sure to wear a good pair of walking shoes and take plenty of water.
WHERE TO STAY
Like many of the adventure hotspots in Jordan, Petra has a variety of accommodations including: