Day 8 & 9:

Petra – Little Petra - Overnight in Petra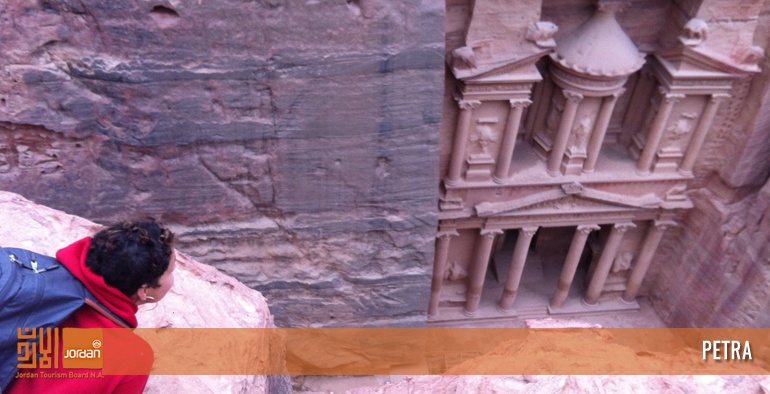 Spend the morning with Indiana Jones in "The Last Crusade" as he charges through the desert gorge to the Treasury in search of the Holy Grail! Jordan abounds in archeological riches, but few sites in the world can rival the Nabataean city of Petra, carved out of the rose-red rock cliffs!
This jewel of the middle east, surrounded by imposing mountains and approached through a deep, narrow cleft in the rocks known as the Siq, Petra is a unique and unforgettable place, an altogether overwhelming experience that neither you or your family will forget. Approaching the Siq you will follow its towering sandstone walls towards the site of the captivating and iconic splendor of the beautiful Khazneh (the famous Treasury), one of the city's most iconic structures. A guided orientation tour will then take you to some of the key parts of this remarkable and ancient site, one of the most impressive and exciting anywhere in the world. You will explore the Royal Tombs and the Roman theatre, with its 8,000 seats carved from the solid rock that surrounds it.
Enjoy lunch at the Basin Restaurant and go off the beaten path on one of the many trails and continue to explore this vast, ancient city. If you happen to be in Petra on a night that it is available, the Petra by night tour is a must! Tours start at 8.30pm and finish at 10.00pm every Monday, Wednesday and Thursday.
Return to the city the next day and you can climb steep paths to the sacrificial 'High Places' (altars) and hike to the top of Jebel Harin (1396m) for a stunning view over Wadi Araba and the Negev Desert. The Monastery is the largest of Petra's monuments and certainly worth the climb up to it. Towering to a height of 40m its doorway alone measures 8m in height, dwarfing anyone framed within it. This is truly a place to lose oneself in the history and ambience of the past. Drive for 10 minutes down the Wadi "Valley" to Little Petra historically known as "Al Beidha". It may not be quite as monumental as the main site but it was an important suburb of Petra and there is still much to see here.
In the evening, head to the Petra Kitchen for a relaxed, informal atmosphere where you will gather to prepare an evening meal. Working alongside local women and men under the supervision of a local chef offers an evening of learning, fun and a very special dining experience, with each dish bearing the special flavor of a reward well-earned.